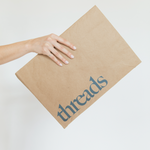 Did you know that we offer a monthly subscription of tights delivered right to your doorstep? We give you the option to choose any tights you want, the amount you receive per month, and how often they come to your door. It's the best way to guarantee you'll have a fresh new pair of tights every single month at a discounted price. Today we have rounded up five benefits of ordering tights through our subscription service.
Free shipping
With our subscription service you are offered free shipping every single month. Who doesn't love free shipping?
Cancel or skip at anytime
We understand that your lifestyle and clothing preferences can change every month, this is why Threads offers the option to cancel or skip your monthly package anytime you please.
Change styles
Want to receive sheer tights in the fall and opaque in the winter? Not a problem. We've made it easy to customize with styles you want to receive each month.
Discounted prices
When you place an order for two or more tights per month, you'll receive monthly savings up to 10%. That's extra money in your pocket every month!
Convenience
Skip the extra time spent ordering tights online and let us do the work for you every month. 
So what are you waiting for? Try the
Threads Monthly Subscription Plan
here.