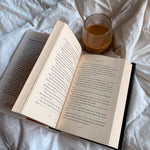 2020 definitely taught us all how to slow down. It made room for new hobbies and the reinstatement of old ones. Yes, there was a lot of Netflix viewing, but many people fell back in love with the magic of books. It's nice to have something to do that doesn't require looking at a screen or plugging something in.
Our Founder, Xenia Chen, asked her audience to provide their must read books of 2020. We've compiled a list of the titles that were the most highly-recommended.
1. Vanishing Half
From the New York Times-bestselling author of The Mothers, Vanishing Half is a stunning new novel about twin sisters, inseparable as children, who ultimately choose to live in two very different worlds, one black and one white.
2. American Dirt
Hailed as "a Grapes of Wrath for our times" and "a new American classic", American Dirt is a rare exploration into the inner hearts of people willing to sacrifice everything for a glimmer of hope. 
It has scored perfect 5-star reviews on various novel sites, breaking records amongst hundreds of books!
3. Educated
Born to survivalists in the mountains of Idaho, Tara Westover was seventeen the first time she set foot in a classroom. Her family was so isolated from mainstream society that there was no one to ensure the children received an education, and no one to intervene when one of Tara's older brothers became violent. Tara decided to try a new kind of life. Her quest for knowledge transformed her, taking her over oceans and across continents, to Harvard and to Cambridge University. Only then would she wonder if she'd traveled too far, if there was still a way home.
4. Untamed
In her most revealing and powerful memoir yet, Glennon Doyle, the activist, speaker, bestselling author, and "patron saint of female empowerment" (People) explores the joy and peace we discover when we stop striving to meet others' expectations and start trusting the voice deep within us.
5. Why We Sleep
Neuroscientist and sleep expert Matthew Walker provides a revolutionary exploration of sleep, examining how it affects every aspect of our physical and mental well-being. Charting the most cutting-edge scientific breakthroughs, and marshalling his decades of research and clinical practice, Walker explains how we can harness sleep to improve learning, mood and energy levels, regulate hormones, prevent cancer, Alzheimer's and diabetes, slow the effects of aging, and increase longevity. He also provides actionable steps towards getting a better night's sleep every night.
6. A Promised Land
In the stirring, highly anticipated first volume of his presidential memoirs, Barack Obama tells the story of his improbable odyssey from young man searching for his identity to leader of the free world, describing in strikingly personal detail both his political education and the landmark moments of the first term of his historic presidency—a time of dramatic transformation and turmoil.