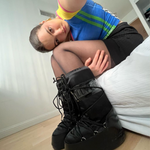 Let's face it, dressing for Canadian winter is sometimes anything but fashionable. The cold winter months mixed with snow and slush can have us feeling down and unsure how to style our wardrobe pieces. Let's get back into the routine of dressing for warmth but still staying on trend. Here are our current favourite winter boots and how we are styling them this season.
One can never go wrong with a pair of Dr. Martens, they are a staple piece that can be styled a million different ways. Normally we'll wear sheer tights and mid calf socks with our docs so that we can still pair them with a cute skirt but the extra layer keeps us warm. 
They say what goes around comes around and the return of the Ugg boot is an example of just that. The classic ultra mini boot is what every model is wearing with their "off-duty" looks, so you know we had to jump on the Ugg trend as well. 
Like our viral tiktok said "hot people wear black tights + knee high boots." Rounded toe knee high boots are always a go-to in our closet because they combine comfortability and fashion perfectly. 
Love them or hate them, Moon Boots are this winter's most raved about accessory. The reason we're reaching for them this season is because of the Y2K nostalgia they are giving us! 
Platform shoes give all our outfits an extra bit of oomph which is why they are our favourite boots to wear with high thigh stockings. The two paired together is spectacularly spicy.