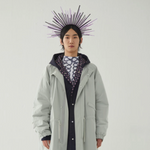 This year's fashion week saw a greater emergence of all new kinds of fashion---and no I'm not talking about masks. A growing concept in the 21st century fashion industry is genderless or unisex clothing. This category of design allows for consumers and designers alike to experiment in a new sector of the industry that is not defined by gender (something you know we are all about at Threads). New and upcoming designers are taking this concept by the reins as seen at this year's New York Fashion Week. Here are five notable designers to watch in the genderless/unisex clothing market.
Chelsey Grays is a fashion label founded in 2019 in Cleveland, Ohio. Inspired by her mother who would wear clothes made for men, Grays developed an interest in creating clothes for no gender, rather for both at once through unisex designs. Aimed at addressing political topics and creating a movement of positive change, Grays uses fashion as a tool to push for change and highlight political issues. Grays is making waves in the industry  by redesigning  the normative concepts in menswear through creativity and experimentation whilst pushing for positive change. 
A label designed by Detroit native Aaron Potts, A.Potts aims to provide consumers with what Potts calls "the middle portion" of our closets, a.k.a the staple clothes we grab for over and over again, much like our Threads tights. Potts exclusively labels his brand as unisex to appeal to a wide customer base looking for the perfect transeasonal staples. Aimed at creating clothes for the widest possible market, Potts rationale is, "real style is about spirit, not about physical differences or trends." 
Created during the difficult times of the pandemic, Connor Mcknight used his time in solitude to create his Brooklyn-based luxury fashion label in an effort to connect with the continued race-based violence against the black community. Inspired by his experience growing up black, Mcknight credits his design efforts to create an abnormality and draw attention to the inequitable meaning of success for the black community. By establishing a luxury fashion label and showcasing timless, unisex silhouettes, Mcknight hopes to redefine what normaility and the black mundane mean.
Following the theft of one of his graduate collection garments in 2017 (a travesty we couldn't fathom happening to our tights), Jungwoo Park, a.k.a. Woo Park took this experience and turned it into his label the STOLEN GARMENT in 2019 in Seoul, South Korea. Focused on the concept of male aggression for his NYFW collection, Park uses a collection of shirts, jackets and a dress to reimagine the meaning of fantasy and unisex clothing.
Carter Young
Carter Young is a fashion label that identifies as a unisex brand. They tie in traditional menswear silhouette and aesthetics to dabble into the unconventional but still creating something that is timeless and wearable. Distinguished as having an Americana workwear aesethic, Carter Young brought playfulness into the genderless/unisex fashion space at New York Fashion Week.