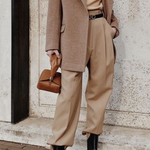 Yes it's true. Fashion has absolutely looked a little different this year. That said, it is not obsolete. Trends are still evolving. Not everyone is wearing sweat pants and sneakers everyday, and we believe it's because when you dress good, you FEEL good.
Obviously the WFH lifestyle has changed the frequency that women (and men) dress to impress, but the matter of fact is, dressing up puts you in a confident, organized, and optimistic mentality. Therefore, fall fashion is alive and well!
One thing you may be struggling with is figuring out what's trendy right now. You're not out in the world everyday. You don't see other people's styles and their unique ways of pairing things. All you have is the internet to rely on. So here we are, providing you with our favourite fall trends at the moment.