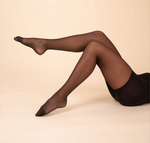 Have you ever looked at your old pairs of tights after you're done with them and thought, hmmmm how could I possibly give these a second life? Don't worry-we got you covered. Here are ten creative and useful ways to repurpose your old tights. 
1. Use The Legs Of The Tights To Store Wrapping Paper
This hack is great for when all our old holiday gift wrap is just tossed away in our basements never to be seen again. Actually keep them neat and tidy this year with an old pair of tights! 
2. Store Onions In Tights To Keep Them Intact 
Keep your onions and/or garlic dry and ventilated by keeping each head up and tied inside their own section of the tight. 
3. DIY Bath Bomb 
Fill the foot section of the tights this DIY recipe and tie off the end for a unique bath bomb experience! 
4. Spritz With Your Favourite Scent & Keep In Your Drawers 
Using the foot section again, full with your favourite dried flowers such as lavender and roses to keep your drawers smelling fresh and clean. 
5. Wipe Away & Remove Deodorant Stains 
Roll up your old tights into a ball and start rubbing away your annoying deodorant marks from your clothing. 
6. Use As An Extra Hair Tie 
Cut the leg of your tights into small pieces and use them like you would any other hair tie. *Bonus* if your hair colour matches your tights shade the stockings will act as an "invisible" hair tie! 
7. Hold Your Hair Back As You Wash Your Face
If you have long hair you know the struggles of trying to hold your hair back as you wash your face. Just cut the thigh section of the tights into small pieces and use it as a headband. 
8. Prevent Clogs In Spray Bottles
Tie your tights around the end of the spray bottle and it will act as a filter to prevent clogs. 
9. Use As A Household Cleaning Cloth 
Polish wood and remove soap scum off glass by rolling your stockings into a ball and using with your cleaning detergents. 
10. Remove Nail Polish
Use in place of a cotton ball or remover pad! Snip your stockings into small pieces and use with your choice of polish remover. 
Psstttt!!
Our founder, Xenia, made a video playlist filled with a bunch of creative ways to reuse your tights, some listed above and some new ideas! Watch the video
here
.