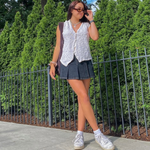 With summer heating up, tights might be the last accessory on your mind. But as major fashion houses like Bottega Veneta, Valentino, and Ferragamo displayed on their runways this season, tights may just be the accessory of the year.
So, it's time to dispel the idea that tights are only for cooler months. Instead, let's talk about elevating your summer work outfits with hosiery. This article explores a few ways to style sheer black tights, thigh-high and knee-high stockings, as well as tan tights for your summer work wardrobe.
How to wear tights at work
Sure, we typically associate tights with colder weather, but they can be a stylish and functional addition to your summer wardrobe too. Here's how you can add a bit of oomph to your office attire:
1. Sheer Black Tights with Summer Dresses and Shorts
Pairing sheer black tights with a cute summer dress can make your outfit pop while keeping it professional. They give you that extra touch of elegance. Let's not forget, they are lifesavers in offices where the AC is always cranked up high. Plus, our contour tights provide an uplifting, shapewear look.
If you're not into dresses, pair your sheer black tights with a pair of work-appropriate shorts for a cool and elevated look. Tailored or leather shorts are so on-trend this year and, with sheer tights, would make for the perfect summer-to-fall transitional outfit.
2. Thigh-High and Knee-High Stockings in the Office
Now this might seem like a bold choice for the office, but hear us out. Stockings can totally work in a professional setting. Pair some knee highs with a knee-length skirt and loafers or heels, and voilà, you're owning that room. It's a fun, chic look that says, "I'm here to work, but I know how to make a fashion statement".
If your office vibe favours longer hems, thigh-high stockings can still be a great option. Not only are they less restrictive than full length tights, but they can also provide you with the boost of self confidence that comes from wearing sexy undergarments that only you know about. Now go rock your next big presentation ladies!
3. Keep it Natural with Tan Tights
If you're aiming for a more subtle look, tan tights are your new best friend. They lend a smooth, refined look to your legs and pair beautifully with pencil skirts or tailored shorts. Whether you're self conscious of veins or a particularly uneven spray tan, tan tights can even your complexion and hide any insecurities. Plus, they're a great ally against that sneaky office chill. 
Convinced? Check out our favourite sheer black tights, thigh high and knee high stockings, and tan tights to start turning heads at your workplace. 
If you have any other questions, please don't hesitate to reach out to us at hello@yourthreads.co