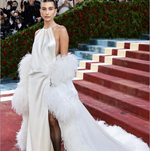 Every year fashion lovers around the world come together to watch "fashion's biggest night out", better known as The Met Gala. Celebrities and fashion industry professionals attend the Met dressed to the nines, all while we sit at home and watch the event in our hoodies and joggers…I know we aren't the only ones. It's so easy to pick our favourite celebrity looks but have you ever wondered how to style them with pieces you can easily find online?
Keep reading for Threads version of how to style Met Gala looks! 
Vanessa Hudgens
Vanessa Hudgens wore a beautiful custom Moschino gown as she co-hosted the Met Gala Livestream but we decided to split the look into two to create the perfect night time look. Wearing a lace cropped top and mesh maxi skirt over top your sheer black tights will have you giving BIG Vanessa Hudgens energy all night long. 
Hailey Bieber
Mrs Hailey Bieber looked elegant in her Saint Laurent gown which is giving us all the wedding season inspiration! If you are a soon-to-be bride looking for your wedding shower outfit inspo then look no further-we go you covered. Pair a white halter dress and a feathered silk kimono over top of our sheer black tights. If you're looking to spice up your outfit go for our lace thigh-highs stockings for that extra oomph! 
J Balvin
You voted for your favourite male Met Gala look over on our Instagram and we listened! J Balvin rocked a Ralph Lauren tux and we couldn't help but wonder what he'd look like in a pair of our TFM Fly Tights! 
Bella Hadid
Bella Hadid wore a black Burberry corset jumpsuit and we are in love! Pair a black leather dress or skirt with our black thigh-highs to mimic this outfit perfectly! *chefs kiss*
Sza
Don't let the huge cowboy hat fool you. Sza's look at this year's Met Gala is super easy to recreate using pieces you may already have in your closet! Pair our opaque tights with a hot pink dress and knee-high leather boots to complete your Sza approved look. 
Shawn Mendes
Shawn Mendes showed us how less really does equal more in his navy Tommy Hilfiger suit and turtleneck. Our TFM Fly Tights would pair perfectly under a navy suit and allow you to remain calm, cool, and "fly" all night.  
Olivia Rodrigo
Olivia Rodrigo dazzled in a custom Versace gown with added butterfly accessories. A satin lilac dress, purple platform heels, and butterfly clips paired with our sheer contour tights are a match made in heaven.